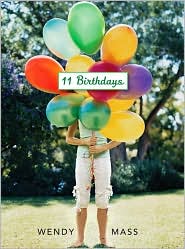 On the day that Amanda

Ellerby

and Leo Fitzpatrick were born, a mysterious woman with a birthmark shaped like a duck told their parents that the two newborns would grow up to be the best of friends, and that they should always celebrate their birthdays together. Reliving your birthday over and over sounds like a great day, but what if it was one of the worst days of your 11 year old life? Amanda of 11 Birthdays by Wendy Mass has just this problem. Leo was, until last year's birthday party, Amanda's best friend. These birthday parties had been shared since age one. Ten years later, Amanda

Ellerby

is absolutely dreading her eleventh birthday party, the first that she will spend without her ex-friend, Leo. She hasn't spoken to him in exactly one year, ever since she heard him say those nasty things about her at their last joint birthday party. This year after their separate parties they realize something is terribly wrong. They keep reliving their birthdays but with changes they make to find out what is happening. Amanda and Leo become friends again to solve the mystery of the revolving birthday. This mystery leads them to skip school, to lie to their parents, and to find a hidden journal written by Leo's great-great grandfather. With that journal and the help of a substitute bus driver with a duck birthmark, Amanda and Leo end the birthday cycle. Along the way they learn lessons of kindness, forgiveness and friendship. These lessons are presented without being too preachy but get the point across to the reader. This novel is for anyone who has a best friend, wants a best friend, or has fought with a best friend. Wendy Mass creates characters and situations that are straight from school hallways with the exception of the repeating birthday. Full of laughs, groans, and few sighs, 11 Birthdays is a good read for all ages but recommended for the 9-12 age range. love this tale of friendship, magic, and old rivalries. A quickly moving story with some unforgettable characters, 11 BIRTHDAYS takes that Groundhog Day premise and turns it into something much more meaningful.